Introducing… the mysterious JOHN BOLINGBROKE
By Traci L. Slatton, author of The Botticelli Affair
He reeks of raw pheromones. A woman looks at him and all she can think about is throwing a leg over and riding real hard.
It's not just that he's tall and well-muscled, or that he looks like Mercury in Botticelli's Primavera painting. It's not about his high cheekbones, smoky green-gray eyes, or aristocratic bearing. It's more than that.
John Bolingbroke is intriguing.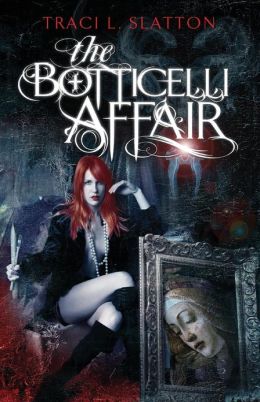 He defies common explanation. There's a fluidity to him; he segues easily from candid and insightful to shuttered and remote. One moment he's the austere intellectual and the next he's utterly, joyfully, mercilessly sensual, stroking a woman until she purrs with hitherto undreamt of pleasure.
He can be compassionate or brutal, sardonic or loving, charming or aggressive, ascetic or wanton. He's equally at home with whimsy or remorseless sobriety. He's an art collector, an automobile enthusiast, a world traveler who quotes obscure British poetry and recites the Bhagavad Vita.
Bolingbroke admires mastery. He indulges himself in irony. Honor is everything to him and he owns himself with uncommon confidence, knowing himself in a way that grants him perfect ease. He can contain himself absolutely. Yet sometimes he descends into savagery.
What is the dark secret of his past?
What does it mean that he has half a soul?
WHY THE VAMPIRE IS IMPORTANT TO THE MAIN CHARACTER:
Luscious Laila Cambridge is a preternaturally gifted art forger with a dark past. She cannot stop thinking about Bolingbroke and does not know whether or not to trust him, particularly not when he tells her that her missing father is still alive.
Yet she cannot dismiss Bolingbroke when he tells her that her father needs her help. What if he really was alive and that was true?
Secretively, Cambridge is happy to have Bolingbroke at her side as they journey from New York to Paris and Amsterdam, looking for both her father and the fabled painting that is sought by a deadly cabal. Yet her intuition warns her that Bolingbroke may be the key to everything, and perhaps he is not telling her what she really needs to know to find the painting and save her father.
WHERE TO FIND THE BOOK AND CONTACT THE AUTHOR:
This book is available for purchase through Amazon, Barnes & Noble, iTunes and Smashwords. To contact the Author Traci L. Slatton, send email to tslatton@gmail.com or visit tracilslatton.com.