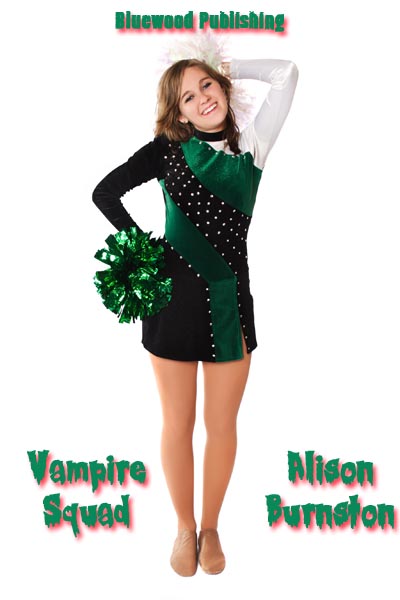 Review of Vampire Squad (Available on Smashwords)
Tiny e-booklet, by Alison Burnston ... cost: $1.29
Cute book cover. The male character has a decent sense of humor.
FOR OTHER READERS -- HERE'S WHAT DOESN'T WORK IN THIS eBOOKLET
#1. The story does not adequately fit the book's title: "Vampire Squad." (There's not really a squad of vampires in it, least not vampires that work together as a posse.)
#2. The Category for this publication is labeled incorrectly. Depicted as "Fiction » Literature » Horror (YA and A only)" it's nothing of the sort. There's nothing horrifying, frightening or metaphysically alluring about this tiny eBooklet. This 11-page article needs to be labeled "eroticism." It's a tale about a petite cheerleader having a casual sexual encounter with a rather large male athlete.
#3. The reader is not at all emotionally invested in either character when the two begin groping each other. The female repeatedly reminds her partner to be much gentler because he's repeatedly squeezing too tightly. Then, lo and behold, she's the one whose supposed to be the vampire. (A very frail vampire.)
#4. WHAT'S TERRIBLY OFFENSIVE:
Short as this eBooklet is, it promotes homophobia. The main character has a serious problem with THE IDEA of homosexuality. The main character's casual "lay" describes a lesbian (whom seems completely unrelated to the story but his lover scorns her for being a homosexual) with: "She can't help it. She digs chicks, that's all." To that the main character replies: "I know, but I bit a girl once and it was disgusting. Made me throw up."
#5. OTHER FACTS
Only 11 pages long (page number 12 posts a short paragraph about the author)